Imagine a financial foundation that not only holds your earnings but also propels your business forward; that's the hallmark of the best business bank accounts. In Australia's vibrant economy, the right business bank account is a crucial cog in the machinery of your company's success. It should provide a seamless banking experience tailored to your business's unique needs, combining cost-effectiveness with comprehensive services. Whether it's through low fee structures, high interest rates, advanced online banking capabilities, or exceptional customer support, the best business bank accounts serve as a steadfast ally in the financial growth and stability of your enterprise.
As Australian businesses evolve, the demand for a bank account that adapts and responds to the dynamic market is paramount. Embarking on the journey to identify the best business bank account is the first step toward securing a prosperous future for your business.
Top Features of a Business Bank Account
When it comes to selecting the best business bank account, several key features are critical to ensuring it meets your company's needs effectively. These features include fee structures, interest rates, online banking capabilities, and customer support.
Fee Structures
Fee structures are often the deciding factor for many businesses when choosing a bank account. Look for accounts with transparent fee schedules; this means no hidden charges for transactions, monthly maintenance, or services like wire transfers and cash deposits. Some accounts offer tiered structures, where fees can decrease as your balance or transaction volume increases. It's also worth looking into accounts that provide fee waivers under certain conditions, like maintaining a minimum balance or signing up for additional services.
Interest Rates
While not the primary focus of business banking, interest rates on account balances can add a small but meaningful boost to your funds. Business savings accounts or special market accounts may offer higher interest rates, which can be particularly advantageous for holding significant amounts of cash. Competitive interest rates can also be a sign of a bank's commitment to helping businesses grow their assets.
Online Banking Capabilities
Online banking is a must-have for modern businesses. The ability to manage accounts, process payments, and conduct other banking operations online saves time and increases efficiency. Look for platforms that offer intuitive interfaces, robust security measures, and a wide range of functionalities that can replace physical banking tasks. Mobile banking apps that allow for on-the-go account management can be especially useful for busy entrepreneurs.
Customer Support
Effective customer support is invaluable, especially if you encounter issues that can affect your business operations. Consider banks that offer dedicated business support teams that understand commercial banking needs. Access to local branches, phone support, live chat, and email assistance around the clock can make a significant difference in resolving banking issues swiftly.
Best Business Bank Accounts in Australia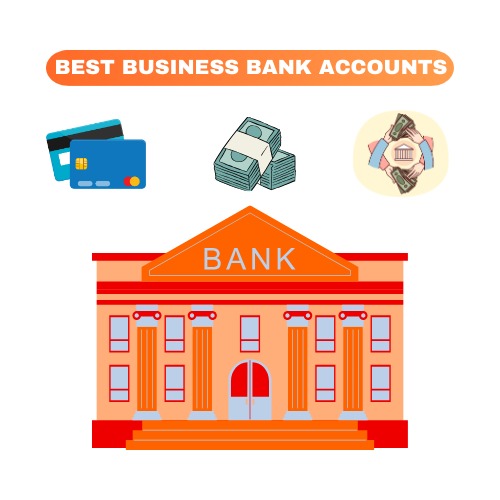 1. Commonwealth Bank – Business Transaction Account:
Commonwealth Bank's Business Transaction Account is known for its ease of access and comprehensive banking services. It's designed to handle all the day-to-day banking needs with efficiency and reliability. Businesses benefit from its wide-ranging ATM network and integrated banking solutions, making banking accessible anytime, anywhere. The online banking platform, NetBank, provides a user-friendly interface for managing finances effectively.
Key Benefits:
Extensive branch and ATM network across Australia.
Sophisticated online banking platform with NetBank.
Seamless integration with accounting software.
Tailored business support and advisory services.
Competitive fee structures with options for fee waivers.
2. Westpac – Business One Low Plan:
Westpac's Business One Low Plan is ideal for small businesses looking to minimize their banking costs. This account offers low monthly fees and allows for a number of free transactions, making it cost-effective for businesses with moderate transaction volumes. Westpac also provides excellent customer service, which can be particularly beneficial for businesses requiring regular banking support.
Key Benefits:
Low monthly maintenance fees.
Generous number of free transactions per month.
Access to Westpac's business specialists and support.
Convenient online and mobile banking features.
Easy integration with popular business tools and services.
3. ANZ – Business Advantage Account:
ANZ's Business Advantage Account is a straightforward, no-frills option for businesses that want to keep banking simple. This account has a flat monthly fee structure, which covers most of the transactional needs without any surprises. ANZ also offers a range of add-on services that can be customized based on business requirements.
Key Benefits:
Predictable flat monthly fee with included transactions.
The wide availability of physical branches for in-person service.
Robust online and mobile banking options.
Additional services are available for customization.
Access to ANZ's business workshops and networking events.
4. NAB – Business Everyday Account:
NAB's Business Everyday Account (no monthly fee option) is tailored to support businesses that are starting out or maintaining lower balances. It offers flexibility with no monthly account fees and the ability to scale up services as the business grows. The NAB app and internet banking provide a convenient and efficient way to manage your business banking on the go.
Key Benefits:
No monthly account fees for the 'no monthly fee' option.
Scalable services that grow with your business.
User-friendly NAB app for on-the-go banking.
Access to a network of business banking experts.
Free transactions are included, ideal for startups and small businesses.
5. St. George – Business Cheque Account Plus:
St. George Bank's Business Cheque Account Plus is a versatile option catering to a wide range of business sizes and industries. The account offers unlimited electronic transactions and a competitive interest rate on balances. It's praised for its local customer service and has been a go-to for many businesses seeking personalized banking relationships.
Key Benefits:
Unlimited free electronic transactions.
Competitive interest rates on account balances.
Strong local customer support and branch access.
Customizable options for different business needs.
Access to St. George's business banking specialists for advice and support.
How to Open a Business Bank Account
The process of opening a business bank account is straightforward, but it requires attention to detail when it comes to documentation and choosing the right service for your business needs.
Required Documentation:
To open a business bank account in Australia, you'll generally need to provide proof of identity for all company directors or owners, your Australian Business Number (ABN), and your business registration details. Depending on the business structure, you may also need to show your company's constitution or trust deed. Be prepared to provide additional documents that prove your business's legitimacy and the nature of your business activities.
The Application Process:
Most banks offer the convenience of online applications, though some may require a visit to a branch to complete the process. You'll typically fill out an application form detailing your business and personal information. Once submitted, the bank may conduct a credit check and verify your documentation. If all is in order, the account can be set up relatively quickly. Some banks also provide relationship managers to help guide you through the process and tailor banking solutions to your business needs.
Managing Your Business Bank Account
Effective management of your business bank account is essential to maintaining a healthy financial status and supporting your business's day-to-day operations.
Making the Most of Online Banking
Leveraging online banking services can vastly improve financial management. Schedule payments, set up direct debits, and monitor account activity without the need to visit a branch. Use features like mobile check deposits or transaction categorization to keep finances organized. Embrace alerts and notifications to stay informed about your account status. Furthermore, use financial management tools offered by many online banking platforms to forecast cash flow and budget effectively.
Tips for Fee Reduction
To reduce bank fees, analyze your transaction patterns and choose an account that matches your activity level. Bundling services, such as merchant services and credit cards, with your bank account, can often lead to discounts. Maintain the required minimum balance whenever possible to avoid maintenance fees. Also, consider negotiating with your bank for better terms once you have established a relationship and have a clear understanding of your banking habits.
Keeping Track of Transactions
Maintain vigilance over every transaction to ensure your account reflects the real-time financial standing of your business. Use accounting software that syncs with your bank account to automate transaction recording. Regularly review bank statements and reconcile them with your books to catch discrepancies. This diligent approach not only helps with financial management but also simplifies tax filing and compliance.
Future Trends in Business Banking
Due to evolving market demands and technological advancements, the business banking landscape is constantly changing. One significant trend is the rise of fintech and digital-only banks, which offer agile and innovative banking solutions with lower fees and enhanced user experiences. These platforms cater to the mobile-first approach of modern entrepreneurs and provide integrations with various business tools and applications.
Blockchain technology is also beginning to influence business banking, offering more secure and efficient ways to process transactions. Peer-to-peer lending and crowdfunding platforms are expanding financial resource options, often at competitive rates.
Artificial intelligence (AI) and machine learning (ML) are being incorporated to provide personalized banking advice, risk assessment, and financial forecasting. Banks are also starting to use AI for fraud detection and prevention, making business banking safer.
Conclusion
Selecting the best business bank account in Australia is more than a financial decision; it's a strategic move towards ensuring your business's agility and growth. The ideal account should offer a harmonious blend of low fees, high accessibility, robust online features, and unfaltering customer service, designed to meet the ever-changing demands of the business landscape. With such an account, Australian businesses can confidently navigate their financial journey, making every transaction count. Have you found the best business bank account that meets these criteria, or is the search still on? What are your must-haves for the perfect business banking experience?
FAQs
1. What are the key features to look for in the best business bank accounts?
Consider fee structure, interest rates, online banking features, customer service, and additional services like overdrafts.
2. Are there fee-free business bank accounts in Australia?
Some accounts offer no monthly fees, but watch for other charges like transaction fees.
3. Can I open a business bank account online in Australia?
Yes, online applications are possible, but some cases may require a branch visit for documentation.
4. How important are interest rates for business bank accounts?
Interest rates can add to your earnings, especially for high-balance accounts.
5. Do Australian business bank accounts offer overdraft facilities?
Many accounts include overdraft options, but be mindful of the terms and fees.